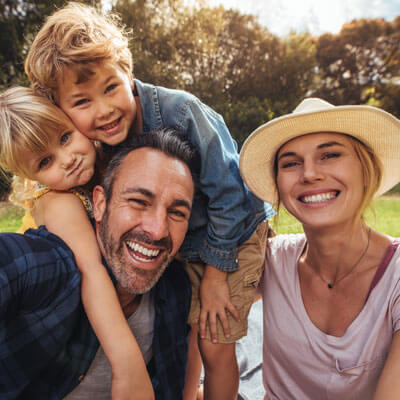 Family Chiropractic Reviews
What Our Ashford Patients Say
At Family Chiropractic we love when patients share with us their feedback and comments after chiropractic care. Please read our patient testimonials below to see what other people have achieved through their tailored treatment plans with us.
Share your stories too! Click here to send us your feedback so that we can help to spread the word about the benefits of natural Family Chiropractic care.
For more information, or to schedule an appointment contact us today.
---
I Am In The Right Hands
I was very impressed at arriving early and being able to be seen earlier. I have had severe pain in my neck and shoulders for over 10 years now without anyone being able to help. I appreciate how difficult this might be for me to get the help I need but I am confident I am in the right hands.
Shaun M.
Excellent Explanations and Treatment
A little apprehensive as this was my first visit to a chiropractors surgery. However, the friendliness of the receptionist as soon as I walked through the door put me at ease. The excellent explanations and treatment received from Michael also made my visit far less stressful than I anticipated.
Keith W.
Fantastic Team
I cannot recommend Dr.Lucas and his team enough; they are fantastic, very welcoming and I felt very comfortable from the moment I walked through the doors. My whole family is attending there as well, looking forward to our next appointment.
Jasu H.
Thank You For Giving Me Hope
After years of being fobbed off by doctors with drugs to deal with continual back pain, which was never going to get sorted. I have now found Micheal and Callum to help me with the curvature of my spine. I can't recommend them enough. Thank you for giving me hope of a better future.
Yvonne R.
Professional and Personable
Great people. Colette was very helpful on the phone making the initial appointment and again when I arrived for my first appointment. Michael listened and took the time to explain things clearly in a personable and professional manner. I am hopeful that the treatment I will receive will greatly alleviate my back pain.
Jeremy M.
Friendly and Professional Practice
Clearly a very friendly, professional and informative practice. I already feel confident that the treatment I will receive will be the best for my individual issues.
Estelle N.
Warm and Friendly
My welcome by Collette was very warm and friendly, yet still professional. Michael helped me to feel at ease immediately after entering the treatment room, and his instructions and explanations were easy to understand and follow. I look forward to returning to Family Chiropractic and receiving regular treatment to help my body function as well as possible.
Naomi B.
Comprehensive Plan in Place
I was a little apprehensive about my first appointment with a Chiropractor. I can honestly say I was put at ease immediately on meeting & talking to Michael. He was so comprehensive in explanation of how he works & what he hopes to achieve. I left with confidence for a successful outcome in treating my problem & grateful I have found someone who listens & explains everything and cares about my wellbeing.
Janet H.
A Lot More Understanding
Very thorough first appointment, lots of information gathering, x rays as well as treatment. Felt very at ease with Michael and feel that I have a lot more understanding of my condition and that there is help going forward.
Ruth C.
Lovely Family Orientated Practice
Lovely family orientated practice, very welcoming, excellent service and the aftercare/interaction via emails between appointments was unexpected but great, the whole family got involved in the quizzes and exercises. Would recommend this practice for all – including children.
Thomas B.
Totally at Ease
Lovely people they know what they are talking about. Made you feel totally at ease. All done with professional knowledge and care.
Carol K.
Thorough
The first consultation was very thorough and I am confident that I will get treatment and advice that will improve my physical wellbeing. The introductory offer for new patients was very welcome and I now intend to attend regular sessions rather than wait for my body to fail before seeking help.
Donald C.
Helpful Explanations
Sandra on reception made me feel at ease as soon as I walked in the door! As it was my first visit I didn't really know what to expect. I saw Michael and he was so helpful and explained everything very clearly. I shall be back for an X-Ray and will be happy to go forward with other treatment at this practice. Thank you!
Hannah S.
My Problem Is Understood
Finally felt like someone listened to me and understood my problems, have been to Osteopaths, Bowen, Acupuncture, Physios and Pain Clinic and just been written off as having wear and tear. Got further in one visit than multiple ones with others.
Heather P.
Back and Neck
Am so pleased I was told about your clinic and that after years of back and neck problems can begin with the help of your practitioners to look after my back. Already feel centimeters taller by being aware of posture in the car and sitting at the dining table. Even the children are sitting straighter when they sit! Thanks again and look forward to working with you to ease my pains.
Linda G.
Appreciated Advice and Guidance
I have been attending the practice for approximately 6 years now on a monthly and sometimes more frequent basis. Every time I have received exceptional service. The reception staff are very friendly and welcoming and do their utmost to help fit in appointments around my busy working schedule. I have also particularly appreciated the advice and guidance that Dr. Lucas has given me over the years to maintain my health and get the best out of life despite the back pain and issues that I suffer with. Thank you.
Jackie B.
This is a really wonderful opportunity to say 'Thank you'…
"For some years I went to see a chiropractor in Canterbury following damage after slipping on a greasy railway sleeper marking out a parking bay. The Doctor was an older gentleman and a real character, unfortunately he passed away a few years later and left a big void in my care. I then, knowing I needed regular 'maintenance' treatment, tried a number of other chiropractic clinics-none I really could generate the confidence in…and some, sad to say, more interested in my cash than me.
Then I came upon Family Chiropractic, who are totally committed to their patients, their care and personal dedication have never varied or diluted over time, they are always thorough and I cannnot recommend them highly enough! I have now been diagnosed with Parkinsons and will need extra care to keep me in a condition to be able to deal with this but have every confidence that we can deal with it positively together. All that I say about the Doctors, the same can be said about the reception team-they are equally caring, while being quietly efficient.
In all, a brilliant practice and I am so grateful to have found them."
David C. Aged 66 years
I would recommend Family Chiropractic to everyone.
"After years of hard work, it has taken a toll on my back and neck, also I came off a horse two years ago. I knew I was very stiff but didn't realise how stiff until I had been for several visits, I then noticed that I was bending over and moving my head much easier. I can now squat down and bend over to touch my toes."
Michael B. Aged 58 years
After Only One Adjustment the difference was Marvelous!
"My daughter recommended me to the Family Chiropractic clinic in January 2002, after I had injured my back and had been in hospital all over Christmas and New Year. When I was discharged from the hospital I was on morphine and had a walking stick. My daughter took me to the clinic, and at the time, I never thought I would even be able to get onto the couch.
After only one adjustment the difference was marvelous, I got off the couch and walked without my stick. The chiropractor had found from one session that my pelvis was out of line and this was causing me pain and thats why I was unable to support myself without the aid of a stick. This was not detected by the hospital, in spite of having xrays taken. The chiropractors have also been able to get rid of a neck collar that I had worn for 25 years on advice from medical doctors, who after giving me many treatments were unable to free me of pain or enable me to move my head freely. Now I attend the clinic every six weeks, which has kept me mobile and free of pain. I am sure had I not taken my daughters advice, I would have been in a wheelchair.
I recommend anyone who has pain to see the chiropractors at the clinic, in my case I thought it was life changing and now walk as though I have never had any problems."
June C. Aged 74 years
I saw first hand how it benefited
"With my wife and daughter attending the clinic, I saw first hand how it had benefited them and so I didn't need any persuading in trying it myself. Over a period of years I had been attending hospitals for therapy, given drugs and injections for my back and neck problems, of which none had any lasting relief. After a few sessions at this clinic, I am more mobile and the pain which spread from the neck to my underarm has vanished.
I attend every six weeks to maintain my spine and feel much better for it. I don't hesitate to recommend this practice to all my friends, in fact my whole family attend if they have a problem. I have been attending since 2002."
Sid C. Aged 71 years
I have grown up with Chiropractic care all my life
"I have grown up with chiropractic care all my life. I came to Family Chiropractic for headaches that I had been suffering with since a car accident a year ago. Since starting care I have not had a headache since the very first adjustment. I have also recovered from a cold extremely quickly, and feel so much fitter and healthier than ever before. My cold lasted a week and would usually have lasted for 3 to 4 weeks. I recommend chiropractic care not only for back and necks but also for general wellbeing and health."
Nicola B. Aged 51 years
Chiropractic is Returning my life
"Chiropractic is returning my life, previously neglected by orthodox medicine. If you are looking for a natural, drug-free option to help heal your body and return it to a state of optimum health and human performance, you owe it to yourself to seek Chiropractic Care. It took me too long to realise that the body is a self-healing organism, but only if you get rid of the interference blocking that healing, not helped by further intoxication with pharmaceuticals. Family Chiropractic's team has brought me through the darkest cave of my life, for which I will be eternally grateful."
Bill T. Aged 54 years
Friendly and Caring
The staff were so friendly and really listened to what I had to say. Everything was explained in detail with no pressure to commit to regular consultations. I have now had only 4 sessions and can see such a difference. My neck hasn't had this movement since before 2008!
Vicki C.
I Was Better Understood
"My Mum bought me my first appointment as a Birthday Gift. I have been in constant pain now for almost 2 years after a bout of Pleurisy. I have been seen through different clinics and doctors and been discharged. I still have pain. The next step for me medically is to go to a pain management Clinic. To be honest after that conclusion I hit a low.. After coming in and seeing Michael I feel I was better understood and I'm confident he will be able to help me. I'm looking forward to my next appointment for findings and treatment."
Julie R.
---
Family Chiropractic Reviews | 01233 640047