Massage Therapy in Ashford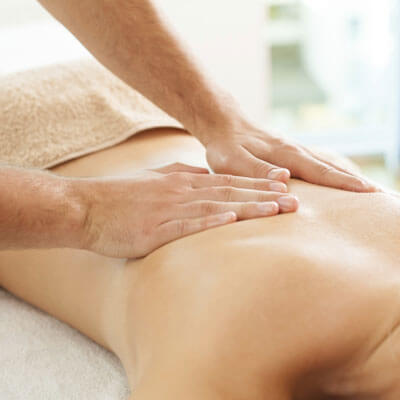 At Family Chiropractic, we're proud to be able to offer massage therapy, both as a complement to your chiropractic care, or as standalone service.
Just as you might expect, massage therapy involves the manipulation and kneading of soft tissues and muscles of the body. This action helps to promote healing and enhance a person's health and well-being, as well as being very relaxing! While we offer message therapy as a complementary approach to physical health and rehabilitation, many clients also find massage therapy to be of great emotional benefit too!
Some of the benefits of massage therapy may include:
Physical relaxation
Improved circulation, which nourishes cells and improves waste elimination
Relief for tight muscles (knots) and other aches and pains
Release of nerve compression (carpel tunnel, sciatica)
Greater flexibility and range of motion
Enhanced energy and vitality
Some clinical techniques may help heal scar tissue as well as tendon, ligament, and muscle tears
As well as the numerous physiological benefits, massage can help to:
Reduce stress and anxiety by relaxing both mind and body
Create a feeling of well-being and enhanced self-esteem
Promote positive body awareness and an improved body image through relaxation
Ease emotional trauma through relaxation
It is thought the term 'massage' originates from the Greek word, 'Massein' meaning 'to knead'. It is also linked to the Arabic word, 'mash' which means to 'press softly'. Both aptly describe the treatment, which is now Widley used in healthcare, beauty therapy and sports therapy.
Today, there are more than 250 variations of massage and bodywork therapies in use, which allows great flexibility in tailoring an approach to a client's individual requirements. Despite the differences between each modality, all of them involve touch and manipulation techniques to move muscles and body tissue. The aim is to relieve stress, tension, pain and a whole host of other ailments.
We have our own dedicated massage facilities on site, designed to provide you with optimum comfort and relaxation. Just as with our chiropractic services, our massage therapist is an expert, and will tailor your experience to your specific needs.[/builder_notebox]
Although massage and sports massage in particular, is now being adopted as an integral part of modern health and fitness regimes, the treatment itself has an extremely long history – the earliest known reference to massage dates back to 2700 BC, when a Chinese medical text details its use for therapeutic purposes. Since then numerous cultures have built upon those foundations to create their own types of massage. Records show that the ancient Greeks and Romans both used massage, so that massage may have arrived in the UK as early as the roman invasion! By the 1600's, massage had certainly become established throughout Europe.
Massage Fees
15 minute – £20
25 minute – £30
55 minute – £60
New clients will receive their first massage for half price
Get Started Today
At Family Chiropractic, we bring massage into the 21st century by utilising the most effective techniques available. If you have had a chiropractic postural screen, then this additional insight and analysis can help your massage therapist to target the most appropriate areas for the most effect results.
Call to book your massage today at Family Chiropractic!
CONTACT US »
---
Massage Therapy Ashford KEN | 01233 640047